So this a little different….Vegan Mushroom "Crab" Cake.
Before all my Maryland friends freak out, LOL, hear me out! 🤣🤣 Don't we all have friends who have shellfish allergies? This recipe gives them a chance to kinda get the idea of a crab cake.
Shredded lions mane mushrooms have the consistency of crab meat…add in old bay and voila an OCEAN FRIENDLY crab cake.
Who is brave enough to give it a try? 🦀
Recipe from Aubrey's Kitchen.....https://aubreyskitchen.com/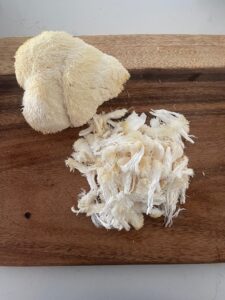 This is what Lion's Mane looks like - you'll find it in the fresh produce section of your food store.