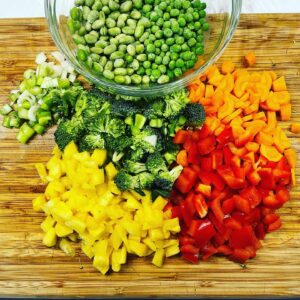 I made this pineapple fried rice and Bob said…."I thought there was tofu in this"….he couldn't even tell it was there and went back for seconds.
I was a little wary about trying Tofu because I wasn't a fan in the past but now I love it.  It takes on the flavor of whatever you are cooking.  
My only caveat is to make sure you purchase non GMO tofu as most tofu is genetically modified and that's not good for our bodies.  But organic non GMO tofu is inexpensive and is easily found in most grocery stores.
Recipe credit goes to @plantbase.traveler
Ingredients
2

cups

cooked rice of choice

1

cup

chopped pineapple

1

red bell pepper

1

carrot

2

spring onions

1/2

cup

shelled edamame

1

cup

chopped broccoli florets

1/4

cup

corn

1/4

cup

peas

2

tbsp

coconut aminos

2

tbsp

teriyaki sauce

Chili flakes to taste

Tofu Egg:

1/2

block organic firm tofu

1

small onion

2

garlic cloves

1/2

tbsp

nutritional yeast

1/4 -1/2

tsp

kala namak salt

This is black salt which has an egg-y flavor, I didn't have it so used salt.

Pinch

of turmeric

Pepper to taste
Instructions
​Wash/peel bell pepper and carrot and dice them. Cut washed broccoli into small florets and slice spring onion. If using frozen peas, corn and edamame, take them out of the freezer and set aside.

Chop onion and garlic and sauté them with a few drops of oil or a splash of water, starting with the onion, then adding garlic once onion is starting to brown.

Break up tofu into crumbles with a fork, add to pan with spices and continue cooking for a few more minutes. Add a splash of unsweetened plant milk if texture is too dry.

Set tofu aside and sauté carrot, bell pepper, broccoli and spring onion, then add peas, corn and edamame to the mix.

Add rice and stir until everything is well combined and heated through. Add tofu back to the pan and season with coconut aminos and treyiki sauce and some chili flakes to taste.

Add pineapple and enjoy!