Peanut Butter Date Cookies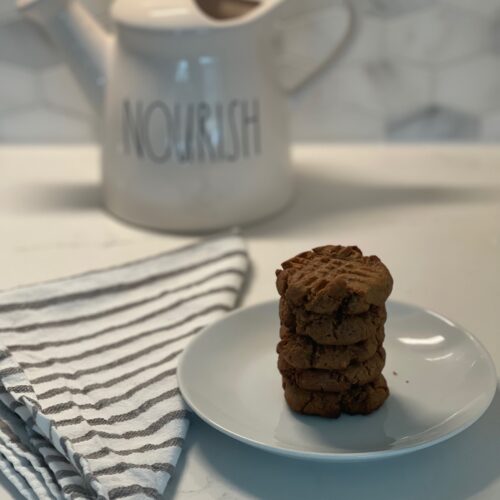 If you are trying to stay away from flour and sugar these are for you.
They are sweetened with dates which the body still recognizes as sweet but because they are fiber rich it lightens the glycemic load and your body doesn't have the sugar spike you get from processed white sugar.
So, you can enjoy a sweet nutritious treat that you can feel good about!
This recipe comes from my latest cookbook purchase….The Fiber Fueled Cookbook by Dr. Will Bulsiewicz. It has 125 recipes along with science backed info on all things gut health! @theguthealthmd
Ingredients
2/3

cup

pitted Medjool dates

2/3

cup

creamy unsweetened peanut butter

stirred well

2

tsp

ground flax meal

1/2

tsp

baking powder

1/2

tsp

vanilla extract

1/2

tsp

white or apple cider vinegar

Sea salt

for topping
Instructions
Preheat oven to 350° F. Line a baking sheet with parchment paper and set aside.

In the base of a food processor, place the dates and pulse until well chopped and crumbly.

Add the peanut butter, flax meal, baking soda, vanilla, vinegar and 2 TBS of water and pulse to combine, scraping down the sides as needed. The mixture should be fairly sticky and hold together when pressed.

Using a 2 TBS spoon, remove the dough, roll into a ball, then place on to the baking sheet. Repeat with the rest of the dough.

Using the tines of a fork press down onto the cookie to make a hashtag pattern. Sprinkle with sea salt and bake for 8-10 minutes. The cookies will continue to firm up as they cool.

Remove from oven and let cool completely. Store in airtight container in the fridge for up to 3 days.
Notes
Suggestions….add some chocolate chips to the batter or just before eating one top with a little strawberry jam for a PBJ taste.