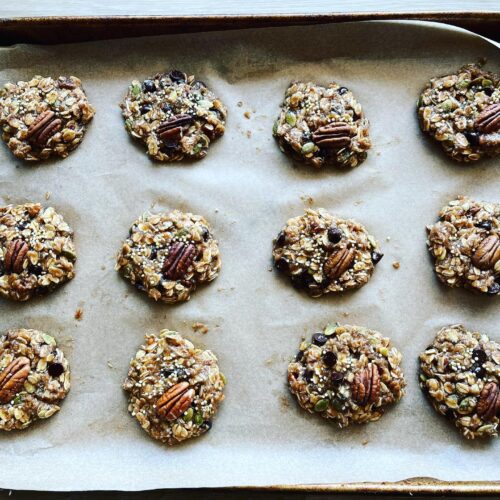 I love a breakfast cookie when you don't have much time in the morning. These are super healthy and filling. Grab and go! They are also great in the afternoon for a "sweet" snack. They are refined sugar free, full of nutritious healthy fats from the nuts and seeds and protein from the oats and flax. Recipe credit goes to The First Mess, Laura Wright.
Ingredients
2

tablespoons

ground flaxseed

6

tablespoons

filtered water

1

cup

rolled oats

certified GF if necessary

¾

cup

almond flour

1 ½

teaspoons

ground cinnamon

½

teaspoon

fine sea salt

½

teaspoon

baking soda

¼

cup

unsweetened shredded coconut

¼

cup

pumpkin seeds

¼

cup

chopped pecans

¼

cup

dairy-free chocolate chips

¼

cup

avocado oil

sunflower oil OR melted and cooled coconut oil

¼

cup

smooth

well-stirred peanut butter

⅓

cup

maple syrup

1 ½

teaspoons

vanilla extract

millet

for sprinkling (optional)
Instructions
Preheat oven to 325°F. Line a large baking sheet with parchment paper or a silicone mat.

In a small bowl, combine the ground flaxseed and water. Stir to combine and set aside to thicken for 5 minutes.

In a large bowl, combine the rolled oats, almond flour, cinnamon, salt, baking soda, coconut, pumpkin seeds, pecans, and chocolate chips. Stir to combine.

In a medium bowl, combine the avocado oil, peanut butter, maple syrup, vanilla, and the thickened flaxseed mixture. Whisk until thoroughly combined and creamy.

Add the avocado oil mixture to the dry ingredients in the largo bowl. Using a spatula, stir until you have a thick batter and all ingredients are thoroughly combined.

Using a scant ¼ cup measure, scoop up the batter and bang it out onto the prepared baking sheet. Repeat with the remaining dough.

Flatten each portion of dough out with your palm while simultaneously shaping the sides of the cookie with your other hand. You want solid edges; not craggy ones. Top each cookie with a sprinkle of millet.

Bake the vegan breakfast cookies for 28-30 minutes, or until golden brown and slightly firm. Let them cool thoroughly (at least one hour) before storing in a loosely covered container/aluminum foil/Beeswrap setup at room temperature for up to 5 days.

Tips: I cooked mine for 25 mins and next time will do 1-2 mins less. Don't store in a sealed container, they will fall apart.